Tiger Woods and his lovely wife, Elin, have released the photo that they plan to use on their holiday cards.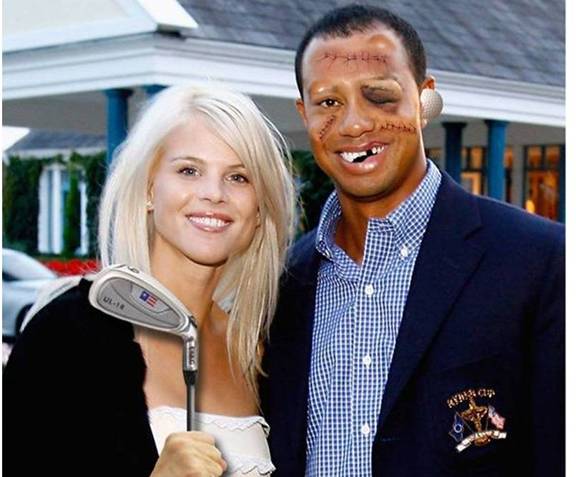 ---
Tiger Woods Jokes
Conan O'Brien: "One of the women who claims she slept with Tiger Woods says they never talked about golf while having sex. However, contractually Tiger was obligated to talk about Nike, Gatorade and American Express."
The police asked Tiger's wife how many times she hit him. "I can't remember," Elin said, "just put me down for a 5."
Confusion Say:
He who drives well in fairway does not always fare well in driveway.
Tiger Woods is producing a new movie: "Horn Dog Billionaire."
Tiger Woods allegedly had nine mistresses. Stay tuned for the back nine.
What's the difference between Tiger Woods and Santa Claus?
Santa stopped at three "Ho's."
Tiger is a a cheetah who have been lion.
What's the difference between a golf ball and a car? Tiger Woods can drive a golf ball 300 yards.
What do Tiger Woods and baby seals have in common? They're both in danger of being clubbed by Norwegians!

Tiger Woods crashed into a fire hydrant and a tree. He couldn't decide between the iron or the wood.

His wife Elin told police that she went for a rescue wood, but it looks like she really went for the driver.

Elin Nordegren got hired today as a consultant. She's teaching Phil Mickelson how to beat Tiger.

Did you hear about Tiger's last outing? He drove into a tree, then ended up with a bad lie.

What kind of club did Elin swing at Tiger? Looks like it was a bitching wedge.

What were Tiger Woods and his wife doing out at 2.30 in the morning? They went clubbing.
What's the difference between Tiger Woods' house and his Escalade? The white airbag in the Escalade didn't blow up and hit him in the face.
Tiger said the fault of the accident was his Escalade. It's typical of a golfer—always blame the caddy.
Tiger is changing his first name to Cheetah.
Other fun pages: